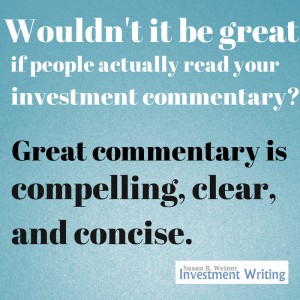 As I prepare to deliver three June presentations on "How to Write Investment Commentary People Will Read," I'm thinking about how to help you beat your challenges.
Please help me to think about this topic by answering my brief survey about investment commentary. I invite you to identify your top challenges and share tips in the survey. If you prefer, you can share your ideas as comments on this post.
Your comments will inspire my teaching on this topic. An earlier, longer survey on my blog became the basis of "Ideal quarterly letters: Meaningful, specific, and short."
Folks have already raised some interesting topics in discussions. For example:
How can I write commentary that's original?
How can I discuss timely yet sensitive topics without offending people?
How can I write long-form commentary for an audience that's suffering from ADD?
I'm planning to allow lots of time for Q&A in my June 26 webinar, "How to Write Investment Commentary People Will Read." I'll also take questions in my June 17 presentation to the Boston Security Analysts Society.
Early Bird pricing ends June 5
Register now to take advantage of Early Bird pricing on my June 26 webinar, which runs from 1:00-2:30 p.m. Eastern. If you're not available at that time, you can register and watch the recording.
Visit the webinar's web page for an overview of the program, testimonials, frequently asked questions, and more details.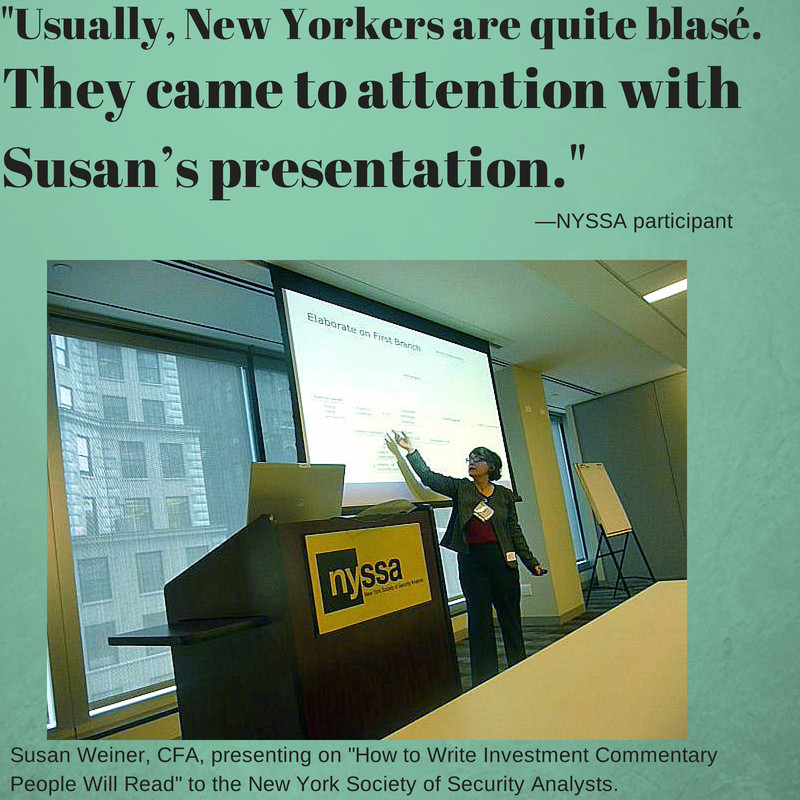 ______________________________________________________________________
 
Copyright 2014 by Susan B. Weiner All rights reserved
This content may not be reposted without the author's written permission.