A printed book is sometimes the best place to find a solution to your question about writing style, punctuation, or grammar.
Here are my five favorite reference books.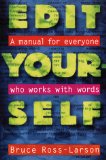 Edit Yourself: A manual for everyone who works with words by Bruce Ross-Larson. Everyone should own this small, inexpensive, easy-to-use book. I use Part II, the back of the book, the most. It lists troublesome words in alphabetical order. It'll help you cut pretentious words and resolve problems such as deciding between "which" and "that." Part I describes and offers solutions to problems common in everyday writing. Buy it today!
Words into Type, based on studies by Marjorie E. Skillin, Robert M. Gay, and other authorities. This fat classic from 1974 is my second "go to" reference book when I'm flummoxed by a question of style, punctuation, or grammar. I go straight to the index to look for the word or type of problem. The book is aimed at individuals preparing manuscripts for publication.
The Chicago Manual of Style was my favorite reference book for many years. It's the most academic of the books on this list. You can also subscribe online to the manual and follow it on Facebook or Twitter.
The Associated Press Stylebook. If you've ever heard an editor say, "We follow AP style," they're talking about the print or online edition of this style book. There's even an iPhone app for this guide. If you're geeky enough–like me–to consider owning multiple style guides, you may enjoy the sarcastic, not-to-be-trusted FakeAPStylebook Twitter account, in addition to the Twitter account of the real thing.
The Grammar Bible by Michael Strumpf and Auriel Douglas. This book gives plain English explanations of vexing issues of grammar and more.
Honorable mention
If you're passionate about good writing, you've probably got a favorite reference that I've overlooked. Please tell me about it.
______________________________________________________________________
 
Copyright 2015 by Susan B. Weiner All rights reserved
This content may not be reposted without the author's written permission.