"Should your investment commentary present a distinctive point of view?" That's the great question posed by a participant in one of my presentations on "How To Write Investment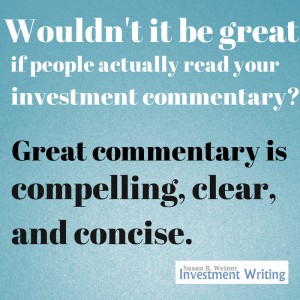 Commentary People Will Read."
My answer? It depends.
What is the distinctive point of view?
If a distinctive point of view means ideas that hold their own vs. leading investment strategies, that's easier said than done. Not everyone can be an original thinker.
Another challenge: Competing with top investment strategists may also require access to world-class data to support your contentions. That may be tough if you're at a small company with limited resources.
On the other hand, ideas aren't the only way to distinguish yourself. You can stand out with the way you express your ideas, instead of the actual content of your commentary. Perhaps you show some personality or you're an elegant or humorous writer.
Your audience matters
Investment commentary that displays thought leadership appeals to some audiences more than others.
For example, if you sell your firm's tactical asset allocation services, readers will care about the originality and accuracy of how you assess markets. In short, thought leadership matters if it is an important part of your appeal as an investment manager.
Some readers won't care whether your ideas are original or common. This is particularly true of individual investors. I believe they'd rather know that you understand them and their needs. In their case, investment commentary explaining how a recent event or trend affects their portfolio may be more powerful than groundbreaking commentary on the stock market.
What do YOU think?
I'm curious to learn your thoughts on this topic. Please comment.
______________________________________________________________________
 
Copyright 2015 by Susan B. Weiner All rights reserved
This content may not be reposted without the author's written permission.